Work OS: The Missing Team Management Tool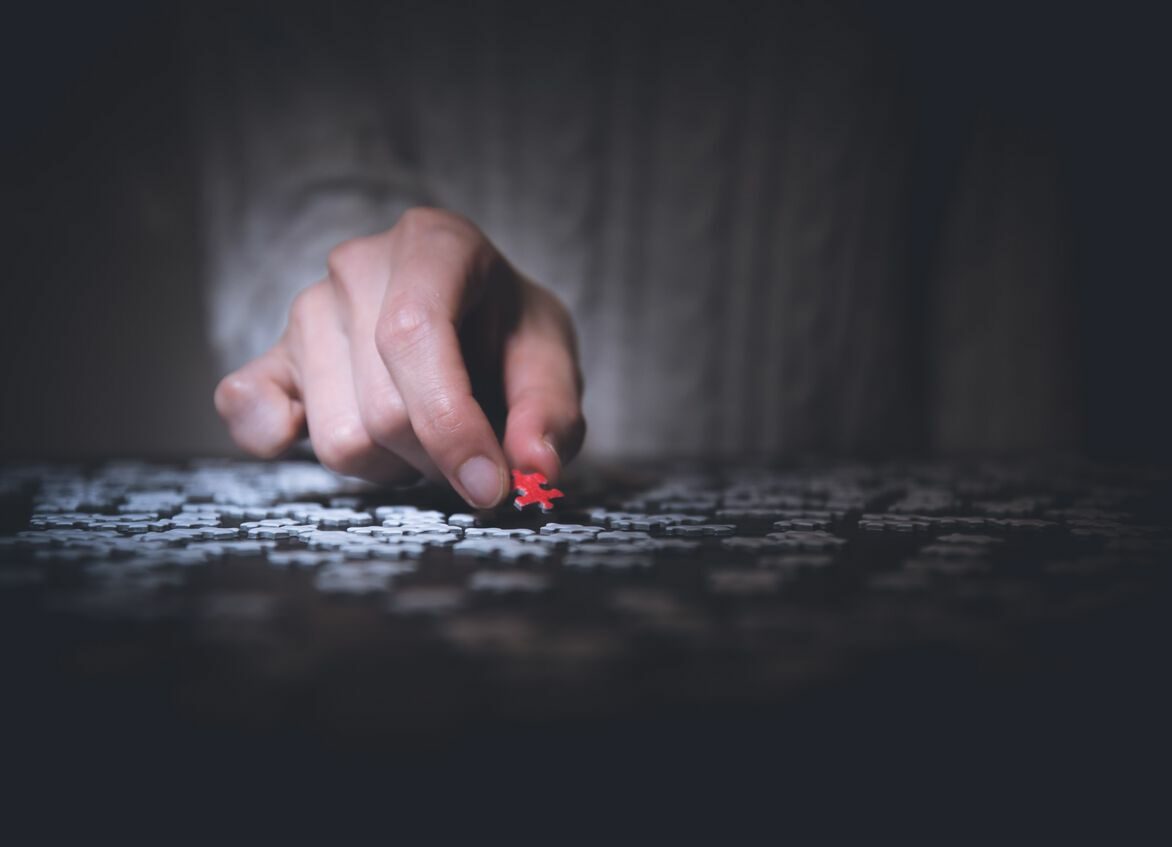 Work Operating System improves efficiency in team management. See how to make sure all your team members know what to do, why it matters, and how to do it.
The recent crisis gave us unique opportunities to learn new ways of team management. Especially remote team management. What could we further improve to increase efficiency of our teams? Read why and how your teams can benefit from a Work Operating System (Work OS, sometimes also called Business OS).
Why Do We Need a Work OS?
Traditional project management technology doesn't adequately support the needs of organizations going through digital transformation. Companies that can optimize team productivity by delivering flexible collaboration and process optimization by responding to their customers' needs will lead the market.
Every knowledge worker is a project manager, whether they know it or not. The increased pace of digital business requires cross-functional teams to work together to deliver products and services to their customers.
Market differentiation demands increased speed to market, but maintaining that velocity while balancing complex business processes highlights the need to access critical data at the team level to make time-sensitive decisions.
Unfortunately, unlike customer relationship management (CRM) solutions that become the customer system of record, or enterprise resource management (ERP) that is the financial system of record, firms lack an operational system of record, relying instead on a menagerie of tools to actually manage the way they work.
Companies don't have a single vendor solution to support an operational system of record [Forrester].
However, collaborative team management tools like Lumeer offer flexible use cases and consumer-grade usability. This creates common workspaces that act as an execution-level system of record – the Work OS.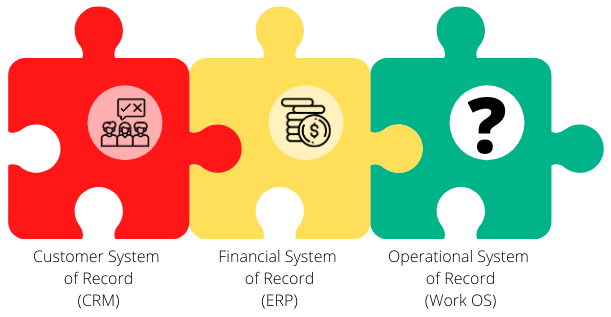 Disclaimer: Icons in images in this article come from www.flaticon.com.
Isn't Work OS Just a Project or Team Management Tool?
You might think that Work OS is an ordinary project management tool. Companies tried that approach. However, a project is a time limited thing. Every project has its start and end date.
This does not reflect how employees actually work. We cannot simply forget everything upon completion of one project. And we can even carry on several projects at a time.
Project management tools are applications that you need to carry on your industry specific daily work for your customers. If you were an architectural studio, it would be some kind of a CAD or BIM software. If you are an accountant, then this is accounting software, if you are a software developer, it is an issue/bug tracker… you got the idea.
In real life team management, work is not limited to projects but also includes workflows, initiatives, workloads, recurring tasks etc.
Work OS applications are flexible enough to plan, organize, and track both projects as well as ad hoc work.
Work OS applications form a centralized space to collaborate, communicate, store, search and share information, review and approve work, allocate resources, create schedules, and many many more.
So the full picture actually looks like follows. We miss the middle piece connecting everything together. Something that lives longer than a single project in the company.

What is a Work OS?
The missing piece of the puzzle, the operational system of record, is the Work OS. Work OS is a new term in the project management industry.
Formerly Work OS was known as Business Operating System (Business OS, BOS). However, according to some [GigaOm], this is more related to an industrial management era. The definition of Business OS is as follows.
A Business OS is a set of processes, methods and mechanisms that enable the organization to operate in a predictable and intentional way to meet its objectives and achieve its strategy. The power of a Business OS is multifold. It gives organizations a common language. It articulates a method for effectively solving business problems. It provides tools and methods for addressing business challenges. A Business OS also enables leaders to manage employees and better connect them to the operational realities and needs of the business. Perhaps most importantly, it establishes a cultural foundation so that everyone sees the organization and how it functions through the same operating lens. Taken together, the system is efficient and repeatable, and it is the catalyst for a self-sustaining way of working [Forbes].
Although Work OS supports the same principles, it is defined more loosely. Simply said, a Work OS helps you to plan and manage available resources and their capabilities. The ultimate goal of a Work OS is to increase overall efficiency.
How Does Work OS Help Team Management?
There are many benefits of having a Work OS in your organization or company.
You can easily plan, organize, and track all the work. Teams are clear what to do, why it matters, and how to get it done.
The work is accomplished at increased efficiency while sticking to standardized processes. Multiple tasks and users can use the same process to achieve different outcomes. Mundane manual tasks can be automated, saving precious time for more creative activities.
Work OS leverages ad hoc reporting. All employees are able to get critical information on time, allowing quick decision making and real-time answers. This allows upper management to shift responsibility further down the chain.
Further examples of benefits in more detail include:
Increased Revenue – employees can work with necessary data and identify cross-sell and up-sell opportunities.
Reduced Operational Costs – more effective ways to synchronize on tasks, avoiding unnecessary emails or meetings, and thus saving time.
Accelerated Time To Market – fulfilling orders remotely, smooth transition of work in progress between departments/teams, support of research and prototyping.
Enhanced Innovation – fosters omnidirectional communication between teams to drive discussions and build communities of interest and practice to drive the innovation agenda, tears down silos.
Increased Agility and Flexibility – easily introduce changes in organization and business processes, gain complete cohesion and harmony between standards and real employees behaviors.
Higher Employee Satisfaction – Work OS is easy to use both inside and outside the company firewall, anytime and anywhere, promoting remote work, employees have everything on their fingertips in a mobile phone.
Increased Productivity and Efficiency – due to workflow definitions, employees know how to execute business processes according to their definitions.
Improved Employee Experience – Work OS connects the dots between other systems and applications delivering a smooth user experience and tools at the right time to the right people.
Strong Talent Retention – today's workforce, when motivated by productivity (see section below) thanks to all the benefits above, is more likely to feel satisfaction of the accomplished tasks.
How to Choose Your Work OS?
Work OS tools are very similar in function and in general provide high quality service. Each of them has their niche specific abilities.
As with any other tool selection, we recommend summarizing your requirements and then validating them against all the solutions.
We recommend you to focus on the benefits mentioned above. These are also the attributes that are worth considering when selecting your Work OS tool. Employee success leads to the team success and company success.

Today's Workforce is Motivated by Productivity
According to the Forrester Analytics Global Business Technographics® Workforce Benchmark Survey, today's employees are motivated by productivity.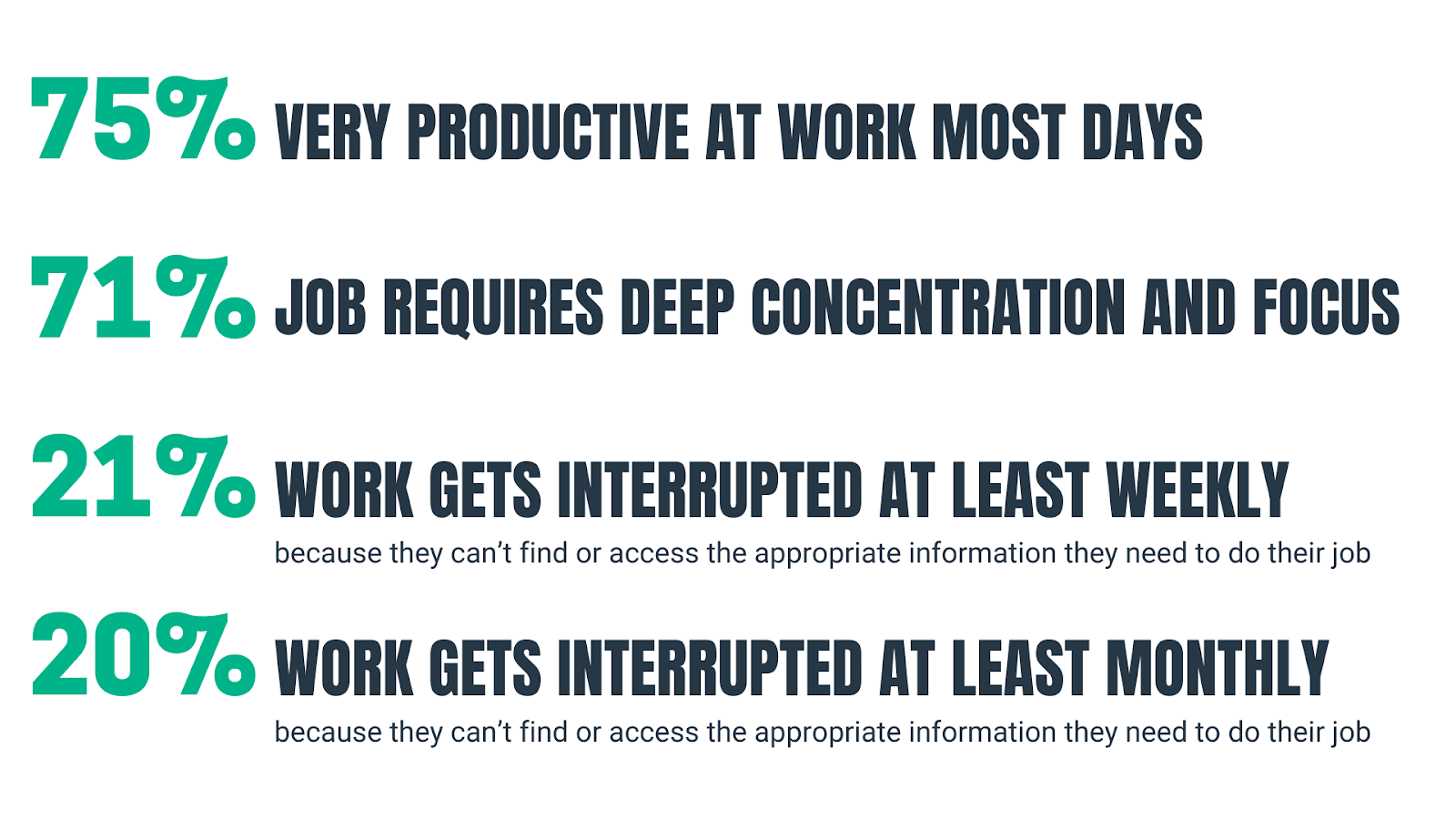 The tools that employees work with must be able to adapt to a broad set of use cases. The basic assumption is that everything is ultimately a project and that linear task management does not fit everyone's needs. The tools need to be innovative, and offer a great flexibility to design various workflows and collaboration interactions.
Modern collaborative team management tools are increasing in popularity. This is mainly due to their ability to innovate and expand their capabilities, which raises their potential ROI.
The market continues to evolve from viral, small task-based team management adoption to enterprise-wide implementations.
Moreover, to gain wide company adoption, the tools need to automate repeatable processes that would normally be mundane manual tasks.
Collaboration needs to tear down silos, spread across teams, organizations, departments, and even whole companies (Work Ecosystems are also suggested). Collaboration extends beyond content sharing to online conversations, comments associated with work content or tasks, including both internal users as well as clients and partners.
Having the Work OS hosted on a cloud platform provides the flexibility of working from anywhere, and at any time. The integrations with other tools are important for a Work OS to fit the company ecosystem.
Any user should be able to design and promote their own simple workflow to drive processes. Moderate level workflow design capabilities enable citizen users to develop solutions without an IT or administrative oversight.
Users are accustomed to talking to their phones and home devices and expect the same behavior from work applications. Machine learning and artificial intelligence can then predict future steps and offer assistance.
Typically an employee frustrated with inefficient information systems seeks help from modern Work OS tools. This drives viral team adoption growing to enterprise implementation.
Workforce expects robust reporting capabilities, visual dashboards and editing on a push of a button.
Strong user and developer communities emerge around individual Work OS solutions and routinely share project templates and related materials.
How To Adopt a Work OS?
With the right tool, the adoption should be really smooth and quick. Among our clients, we see mostly the following phases.
Phase 1: Integrate Work OS with your existing tools and solutions so that all strings meet at a single place. This removes the hassle of collecting data scattered among many business apps. All processes and workflows can then start and run in a single place.
Phase 2: Create the workflows for your existing processes. If you do not have your processes designed or defined yet, this is a great opportunity to do so. You may engage all your workforce to participate.
Phase 3: People are at the heart of all great results. Invite your employees, collaborators, clients, vendors… Anyone who participates in your company's workflows. Or at least make sure they communicate with one of the tools integrated to your Work OS. Do not forget about the necessary training and documentation of how you envision the processes to work.
Phase 4: Create views, dashboards and reports that support timely and correct decision making according to the best known information. Get a high level overview as well as drill-downs on individual departments and teams.
Phase 5: Automate as many workflows as possible. Again, engage all the people and figure possible optimizations and efficiency gains.
Now you should be one giant leap ahead of your competition. You also brought a better transparency and visibility into your organization.
Team Management Use Cases of Work OS
Here we introduce a few Work OS use cases and how you can make your daily routines a pleasant experience.
Too Many Status Meetings
Pain. There are plenty of projects, initiatives, and workgroups created every moment. There is a huge duplication of efforts between those groups and nobody knows who does what. There is a lot of time wasted on many status meetings and meeting notes just putting together the big picture. Over time, it looks like there is no space for real work due to these meetings.
Work OS Cure. People work and communicate online in a context of their specific work items. Due to clearly defined workflow and tracking of the status, everyone knows what to do, why it matters, and how to do it. The status meetings are eliminated. There is a room for occasional decision making meetings with action items on their output.
Too Many Emails
Pain. You feel like your business is email-driven. Employees feel obliged to check their inbox constantly which leads to too many distractions. Emails do not have any priority, they keep piling up, you never know which one should you answer or not. Over time this leads to numbness and emails being ignored, leading to communication breakdown.
Work OS Cure. The communication moves to the in-app chat or any integrated chat solution. People communicate directly in the context of their specific work items (documents, images, client records etc.). Feedback is more relevant and everyone is happy to provide it. Fewer emails are also sent.
Too Many Applications (aka Lack of Integration)
Pain. We all know the crazy frustration caused by collecting data scattered among many business apps and putting them in spreadsheets. Only to later find out that the source has already changed, that there are bugs in our spreadsheet, or that over time, it grew up so much, that you can only throw it away and start over.
Work OS Cure. All the tools are integrated and data accessible within Work OS so that any workflow or report can be created at a single place with an efficiency never seen before. Decisions are made based on up-to-date and instantly available information.
Too Many Mundane Manual Tasks
Pain. We know that computers are pretty powerful and smart nowadays. Yes, we have to do silly copy pasting and data manipulation manually. Which is boring, frustrating, and error prone. And it goes over again and again.
Work OS Cure. Manual processes are easily automated and there is more time to unleash your employees creative potential.
Ticketing Systems Prevent Progress
Pain. You hire the most talented people you can to get the best possible results. You expect them to bring their great ideas to the table. But suddenly, they hit the wall of a ticketing system – to move on, they need to ask for a piece of work from another department that is only accessible through a ticketing system. There is no control over ticket priority, you don't know who to call. You just sit there, wait, and hope for the best. Finally, you get your answer and work delivered. Well, not quite, it is not what you asked for.
Work OS Cure. Thanks to a single workplace, increased transparency and visibility in Work OS, employees have direct access to information they need. They can run ad hoc reports and use their knowledge and responsibility to work in a self-service manner.
Every Project Is a Bit Different
Pain. Even when working for the same client repeatedly, every project introduces tiny changes. So you cannot completely copy the previous one and just reuse everything. Starting from scratch is not viable either. The client expects you to deliver the results faster, as it is basically the same as before.
Work OS Cure. Use the workflows from the previous projects, put them together as needed and introduce incremental changes to them. Divide the tasks to subtasks as needed. You can still monitor the overall progress and reuse as much as possible.
One Person Bottleneck, No Shared Responsibility
Pain. There is one person for the whole company who is in charge of a specific task. Like collecting budget requests. Such a person might not necessarily have this as their primary role, but they just wanted help out. Now the boss requires many reports and answers. There is also a bottleneck as there are too many budget requests. Sometimes it feels like "hey daddy, would you buy me that?". And when this person is on vacation – oh dear, bad things happen.
Work OS Cure. All workflows are shared and known. Everyone can submit their ask, having a clear picture of what the available budget is. The reports are prepared or the boss can easily create their own (as well as any other authorized person). The responsibility is shared, everyone cares about their specific portion, beautiful.
We just named a few major pains we see quite frequently. Sure, there are many more you can address with a suitable Work OS.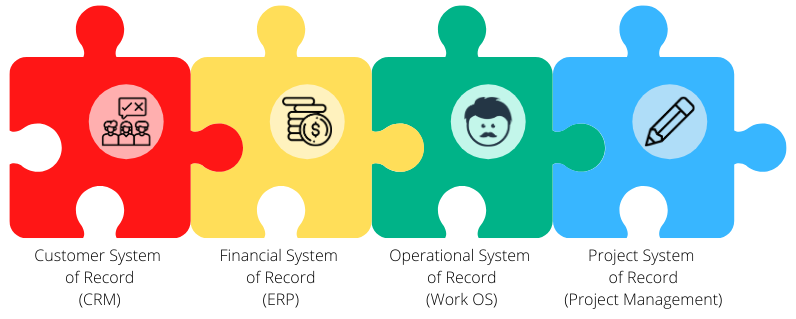 What's Next?
The future has arrived. In order to gain (and keep) a competitive advantage, companies need to be more agile, and communicative than ever before. A digital adoption helps with that a lot with a Work OS being an integral part of the process.
At all the places in this article where we mentioned Work OS, you can easily substitute Lumeer. Lumeer's ultimate goal has always been to serve the purpose of team management, smooth collaboration and pleasant work. Simply to fill in the gap of the missing piece of the puzzle.
However, this is not the final step. Leading a team or a company is steering and navigating through constant changes.
As Stowe Boyd suggests in his article, we want to create whole ecosystems of cooperating companies. So called Ecosystemic Relationships through Ecosystemic Governance.
But this is a few steps ahead. For today, just give Lumeer a try.