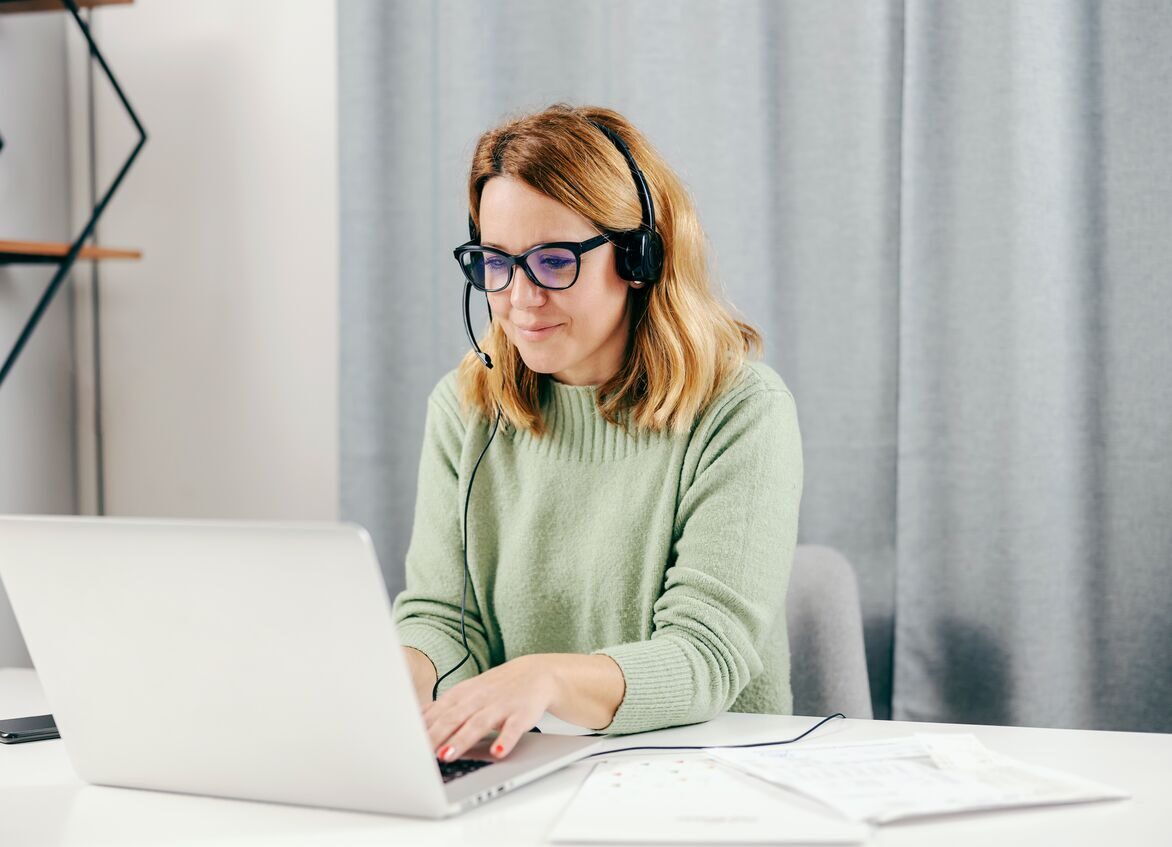 Easily implement the best practices of Smart Customer Relationship Management.
This Smart Customer Relationship Management Template allows you to easily and quickly start implementing best practices of Smart CRM and unleash new revenue streams for your company.
If you want to learn more about Smart Customer Relationship Management, read Client Management: 8 Ways to Increase Your REVENUE.
In small and medium sized companies, a single person typically supports multiple roles in the sales cycle. This is reflected in the template, however even a team in a large company can still benefit from it.
The template is currently tuned for products that can be showcased to the customers, like digital products. However, Lumeer's flexibility allows you to accommodate everything to your specific needs easily. We also help you with a successful onboarding to your business subscription.
What is in There for Me? aka TL;DR;
In this template you will find:
A full sample implementation of Smart Client Management principles,
A fully customizable sales process,
Custom fields to track any information you might need,
A tracker of customer contracts,
Plenty of automations that keep an eye on your process, for example:

Notifications when there is no activity with a contact for a long time,
Notifications when a customer contract is going to end soon.

Useful reports to keep an eye on your efficiency and progress,
Free consulting hours to tweak the process according to your needs (applicable for a year-long business license).
Do not want to read all the text? Jump directly to the live template.
The Sales Process
The Sales Process in the Smart Customer Relationship Management Template is mainly controlled through Lead Status.
A lead status indicates where a person is in the buyer journey. It also triggers actions of your team.
Tracking begins once a contact is acquired and follows the lead as they enter, exit, or re-enter the buyer journey.
In larger companies, there are typically lead stages and lead statuses as two separate things. Lead stages are managed by marketing and sales team together, while lead statuses drive the focus of the sales team.
For simplicity and primary use case of this Smart Customer Relationship Management Template for small and medium sized companies, the lead stages and lead statuses are combined together.

Although, the arrows are always leading to the right in the sales process, you can always jump back a state or more, if you feel this is appropriate.
But keep in mind that any step back already cost you to move forward and thus there are is a waste (resources used, time invested, etc.).
Also, leads from the failed states (Bad Fit, Not Interested, Missed, Canceled), can be later reused and can re-enter the buyer journey.
Sourcing Leads
First, your team needs to source leads. Depending on what type of business you are in, this can be done simply through Yellow Pages, or any other marketing channel you might be using. Just be creative here.
Once you source a lead, you put them in the Leads table. Optionally (to make further work easier) you also link one or more contacts in the Contacts table.
You should enter new leads with the Potential status.
This automatically triggers the next task to pre-qualify the leads.
Pre-qualification
Now it is a good time to figure out the most details about the leads as humanly possible. You can start with a simple check in a Business Directory.
If a lead does not pass qualification, they end up in the Bad Fit state. These leads can be still valuable in the future, should you grow, or extend you business, or start offering new services for example.
Sales Contact
Once the lead passed the initial pre-qualification and ended up in the Qualified state, it is up to give them a call. Or send an email. Whatever is your most efficient business practice.
From this time on, it is crucial that you stay connected and do not let the contact to get cold.
Always track all the communication with the client in the Activities table. Lumeer will keep an eye on it and will notify you when there was no communication in a long time.
Is the contact Interested or Not Interested?
Product Demo
For an interested contacts, you should schedule a product demo.
Or any other type of an event that you use to sell your product in your specific industry. Always remember that the process can be easily fine tuned to fit your specific needs and we are happy to help you.
When a product demo is scheduled, you can enter a new opportunity in the Opportunities table.
Also, all of the lead statuses can be multi-step events requiring many activities with the lead's contact(s).
For example, you can see that Opportunities themselves have multiple statuses (Demo Completed, Proposal Sent, Contract Sent, Won, Lost). Another example are Contacts the status of whose can be advanced as part of the Sales Contact step (New, Attempted do Contact, Connected, Active, Bad Timing, Dormant).
You are absolutely free to tweak those statuses and flows as needed.
The main lead status should be advanced only in the case when there is a progress in your relationship with the customer.
A New Customer
Congratulations! Or didn't you manage to close the deal and the customer ended up in Missed? No worries, thanks to the Smart Customer Relationship Management Template, there are plenty of other opportunities.
Track all new customer contracts in the Contracts table.
Now it is the right time to over-deliver. Also try to use cross-selling and up-selling techniques.
Later, some customer simply decide not to use your products or services and they become churned customers. You see various statistics on these important data in Lumeer.
Now let's have a look how you can do this easily and quickly in our Smart CRM Template.
Using the Smart Customer Relationship Template
As you could have noticed, there are tables in Lumeer that are the main database for all your information (Leads, Contacts, Activities, Opportunities, Contracts, and Tasks).
Let's see the individual steps of the Smart Customer Relationship Template usage according to the process suggested above.
1. Adding a New Lead
First, source leads and use a form to quickly add them. This will automatically open lead's detail where you can fill in more information, or just move on to add another lead.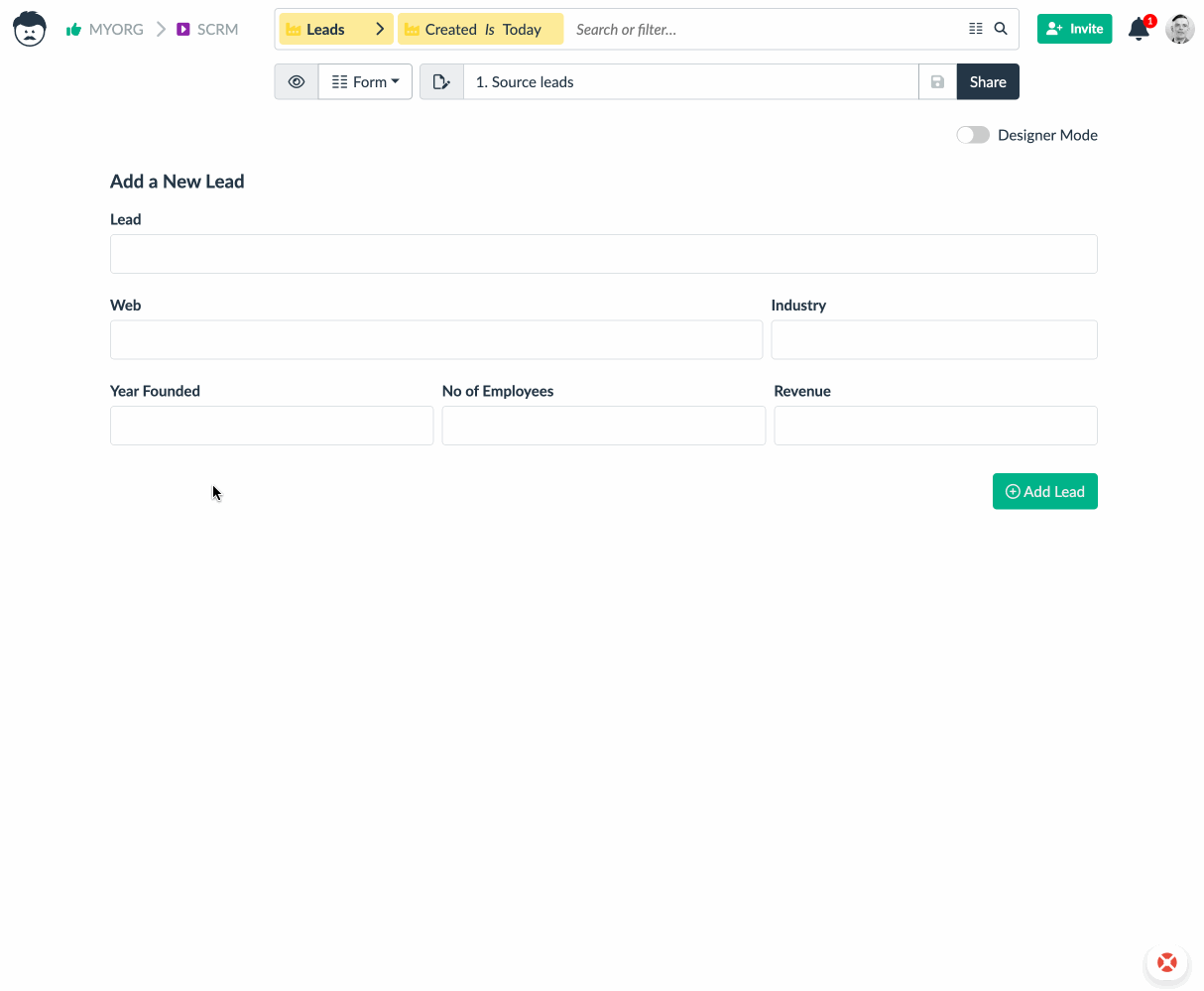 2. Prequalify Leads and Add Contacts
Fill in all necessary lead details and add contacts in the lead's detail. Add as many contact details as your company needs. Remember, Lumeer is very flexible, you can always add your own fields to track any kind of information, or remove some unused fields.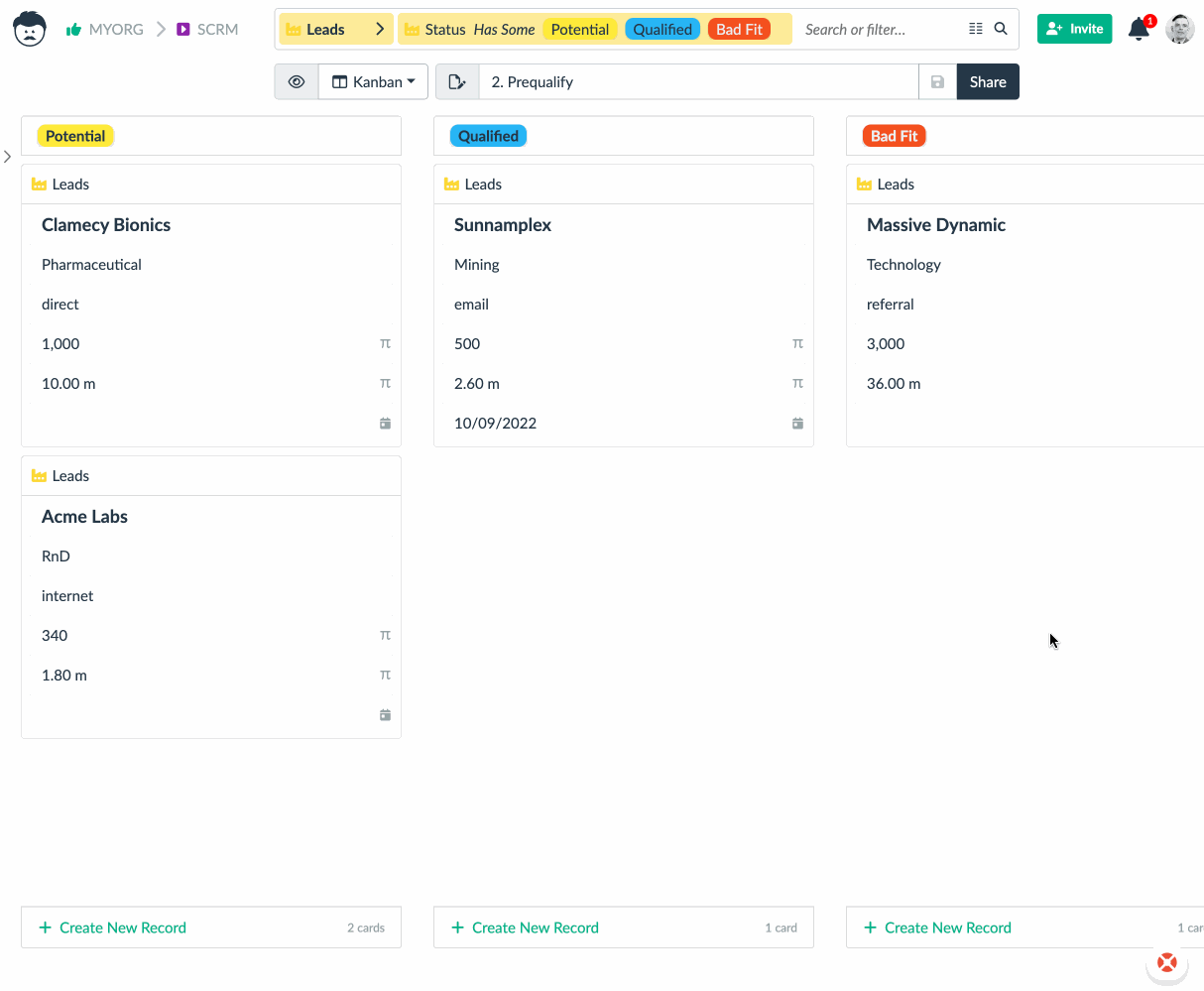 You can also follow through and see details of each individual contact.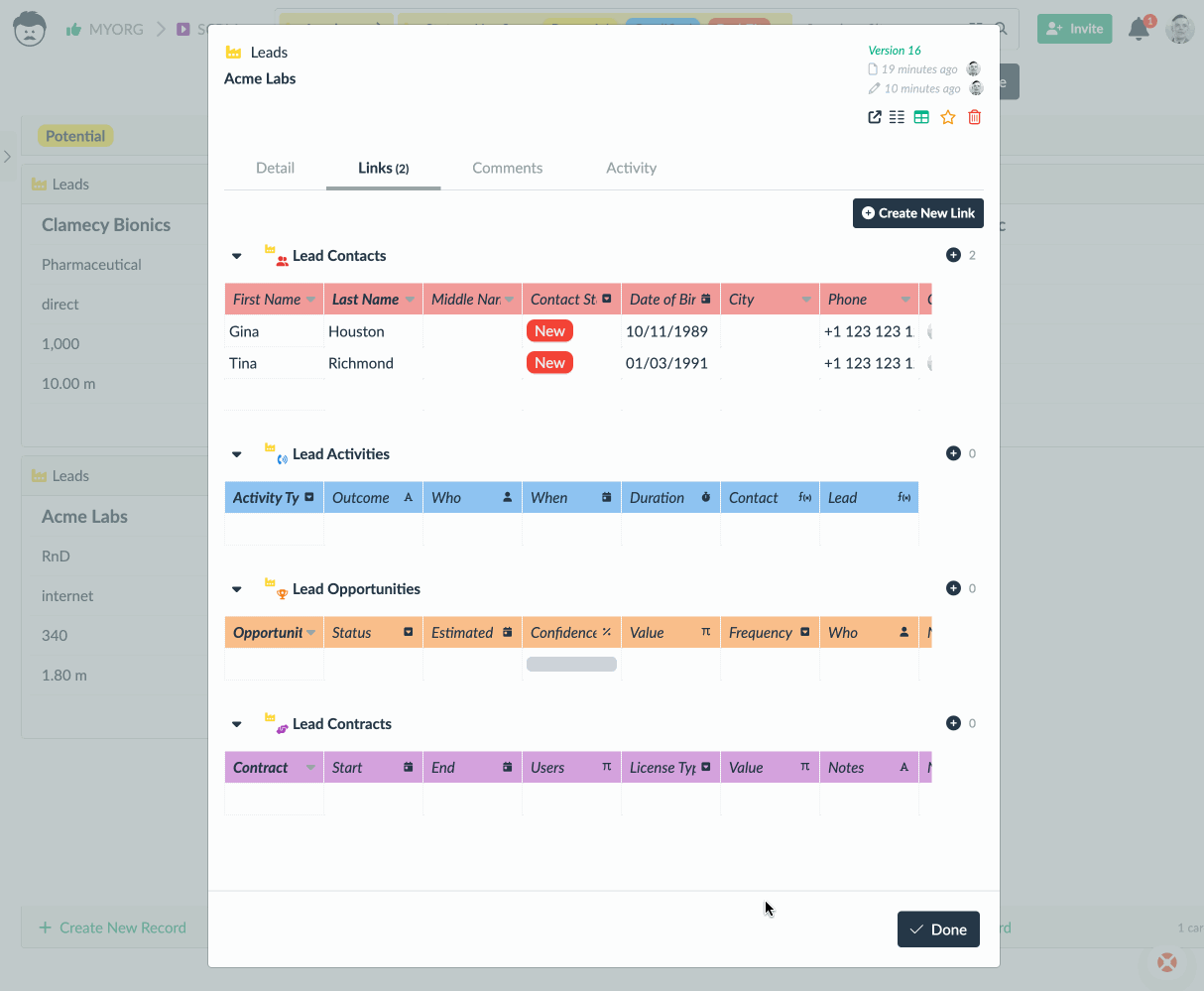 Also, do not forget to move the leads to the Prequalified stage, so that sales team could pick up here.
Or also move them to Bad Fit, if they did not pass your filter. Remember, that the courage to mark a lead as a Bad Fit can save you a lot of efforts and money in the future.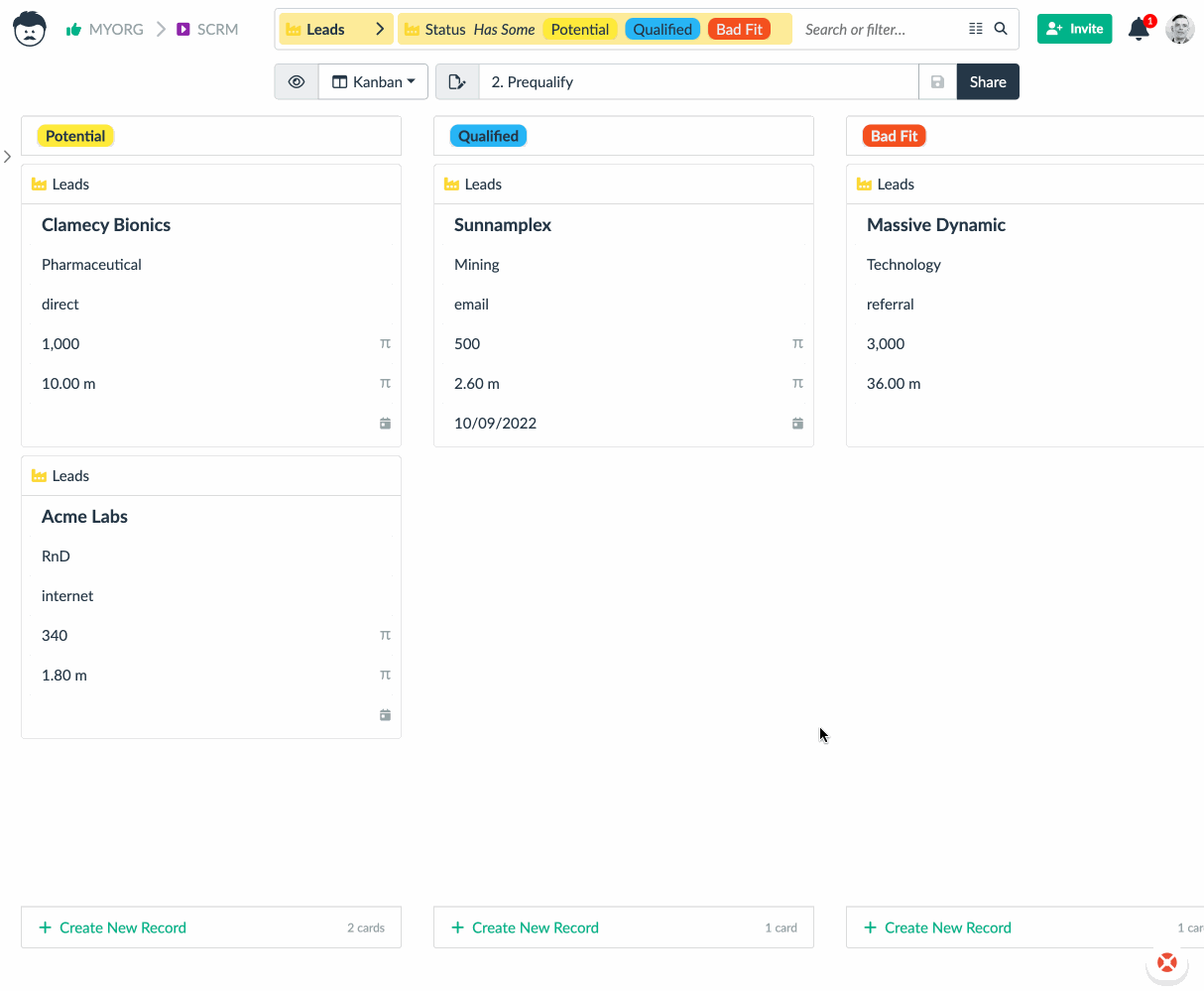 3. Sales Contact
It is now the role of the sales team to work with contacts of qualified leads so that they are ready for your product demo. Do not forget to track all the activities so that your colleague could step in if you become sick for example.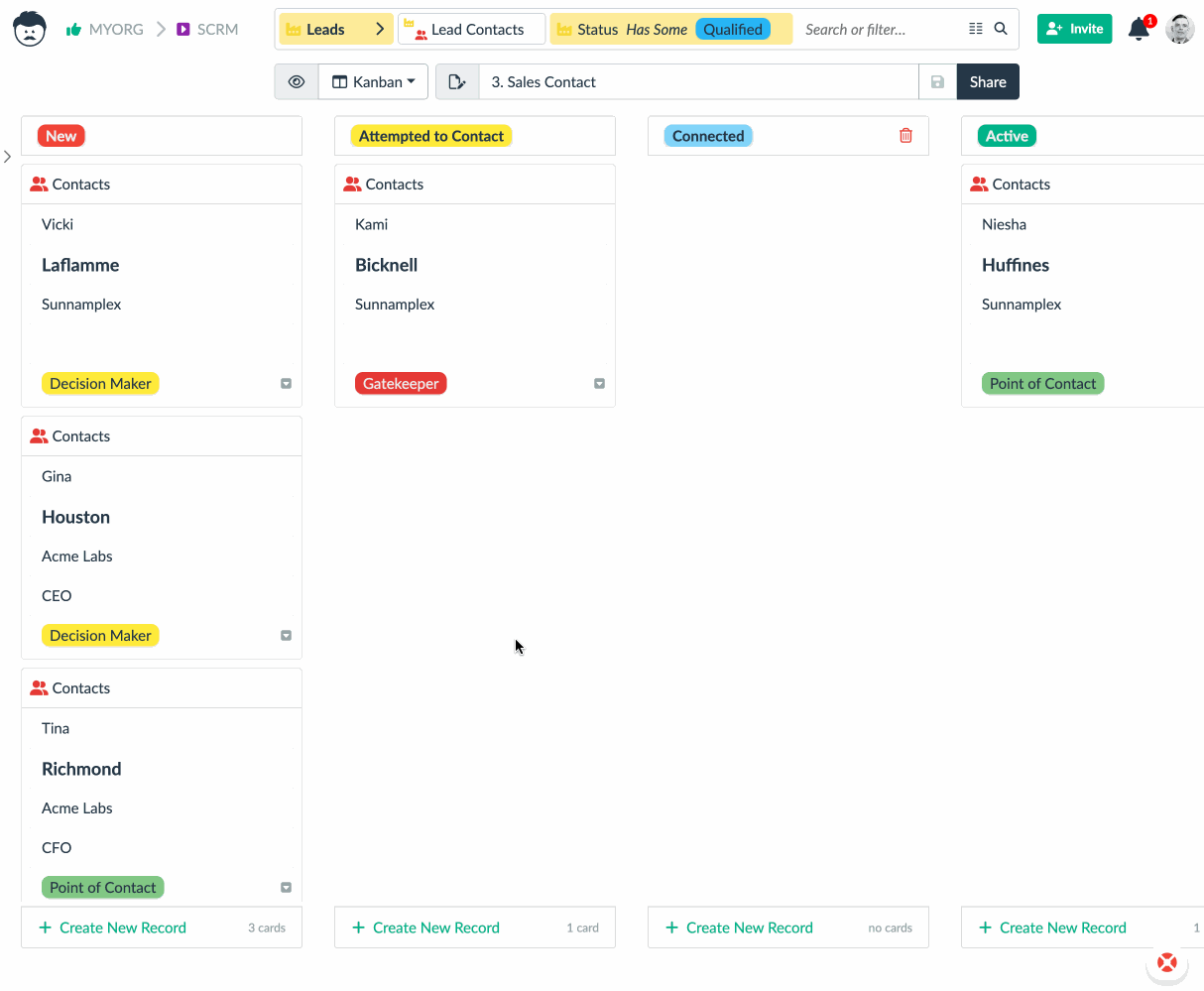 Notice, how Contact and Lead on the activity got automatically filled in, so that you have the reference at hand. Any such automations, to for example pre-fill fields with default values, can be easily added.
Also move the contact to the appropriate stage.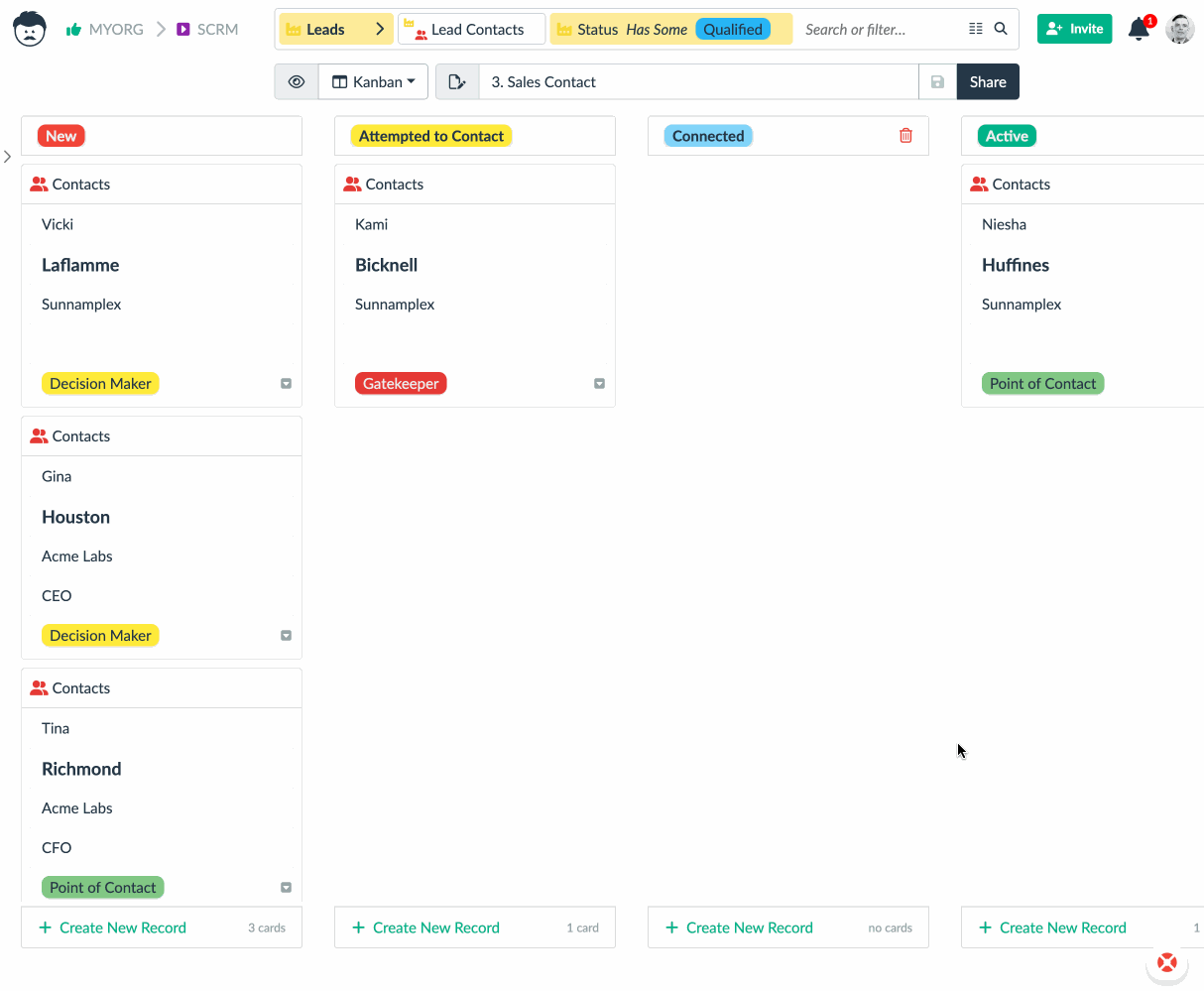 And update the lead status.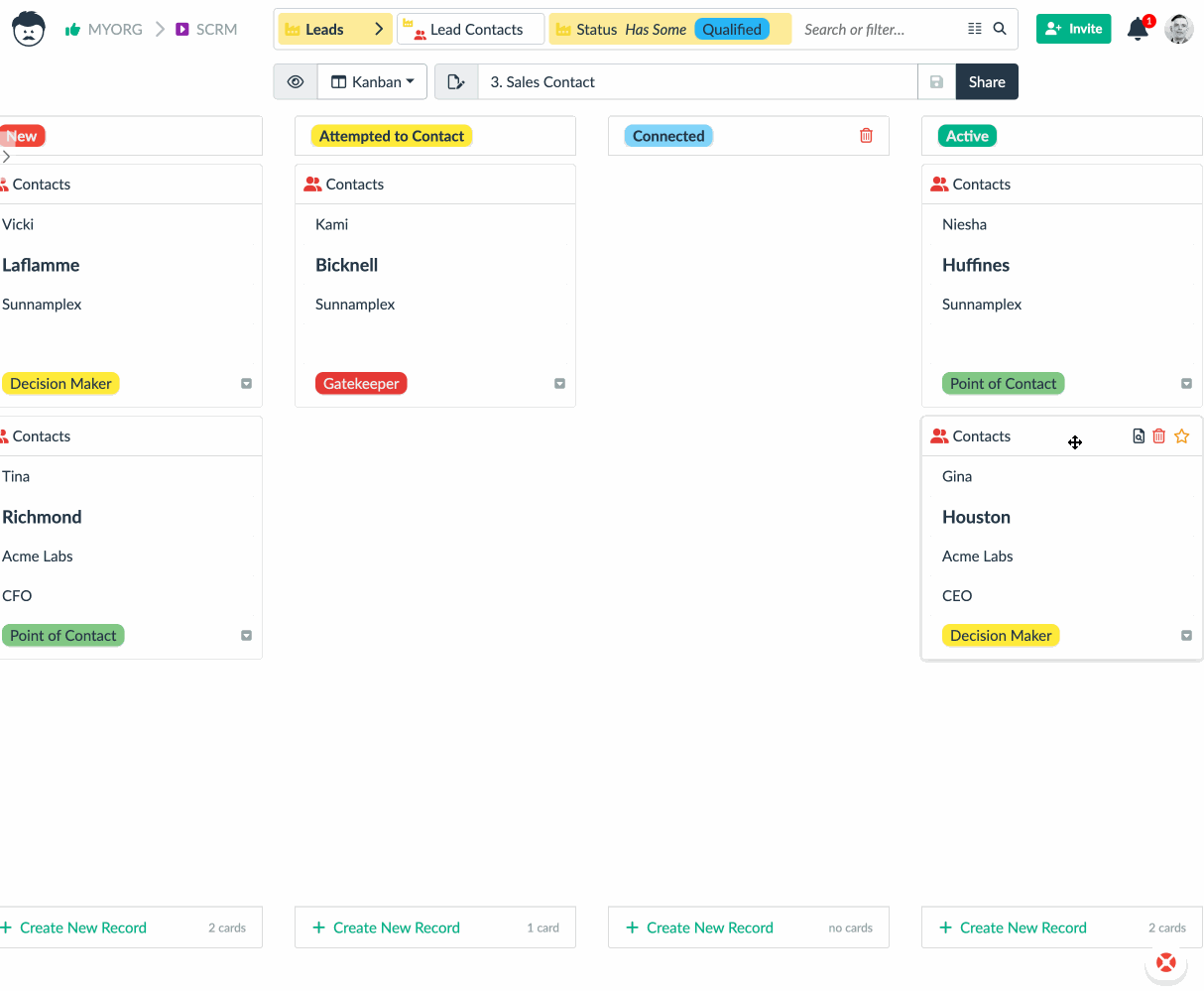 4. Product Demo
Upon completing your product demo, start working on the opportunity. Again, you can keep record of any opportunity details you might need.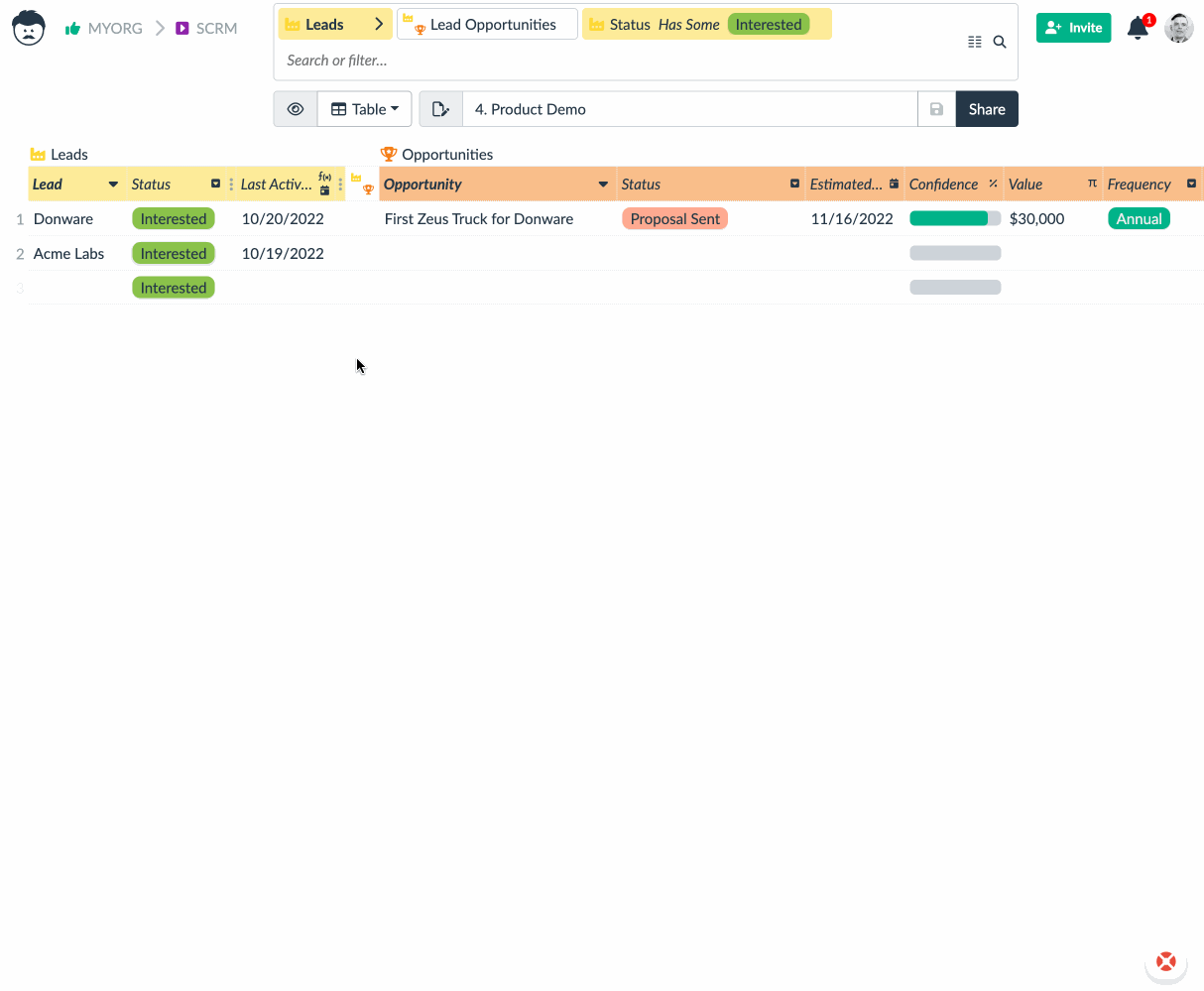 Finally, easily convert the opportunities to contracts on a click of a button.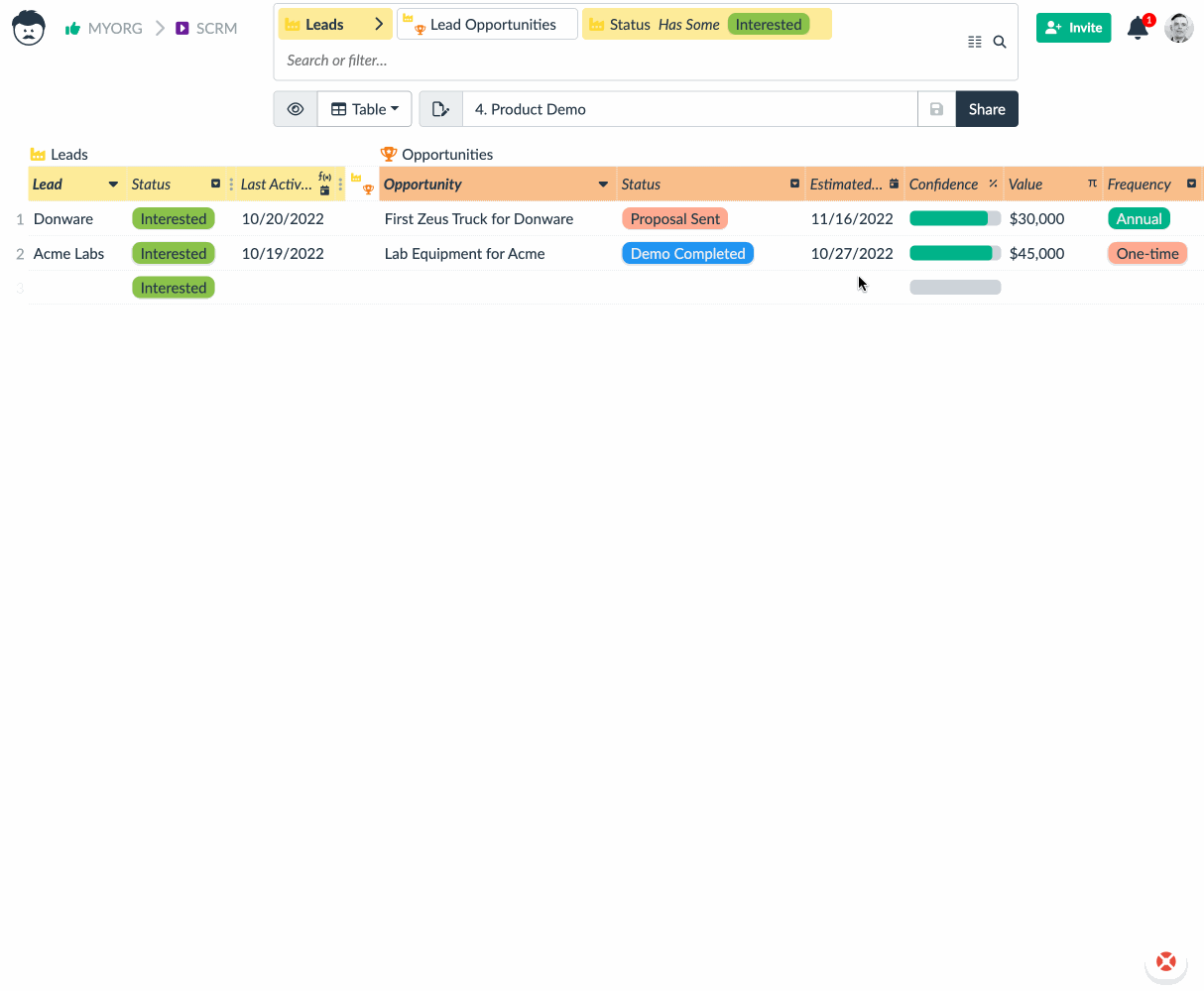 5. Reports
Due to carefully tracking all important information about our clients, we can easily see where our process could be more effective.
Feel free to look around at the prepared views in this project.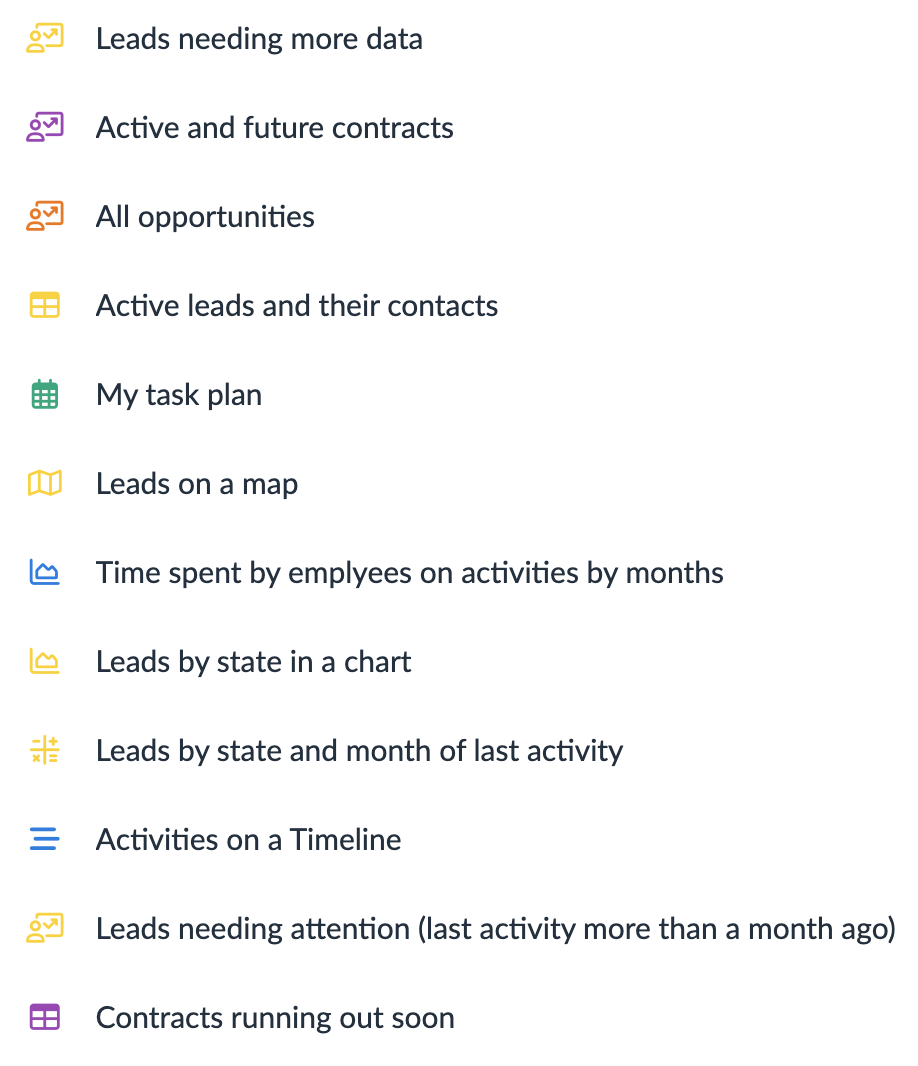 Anything can be fine tuned, any visual representation can be easily changed (if you preferred tables over Kanban boards for example).
In your business license of this smart customer relationship template, you have some free consulting time with us for the initial setup and admin training.
6. Automations
Automations can be easily configured to further support your workflow. For example a task can be automatically created upon a change of a lead status.
Currently, in the template, tasks are automatically created for leads in state of Potential, Qualified, Interested, or Customer that do not have any interaction during this or last month.
Tasks are also automatically created when a contract is running out. Both occasions are checked weekly.
The Template Structure
All your information are stored in tables that are similar to spreadsheets in MS Excel, or Google Sheets. With the addition of attribute types so that the application actually understands your data.
Individual records (rows) in tables are related to other records. This is shown in the following picture to give you a better of how this template is structured.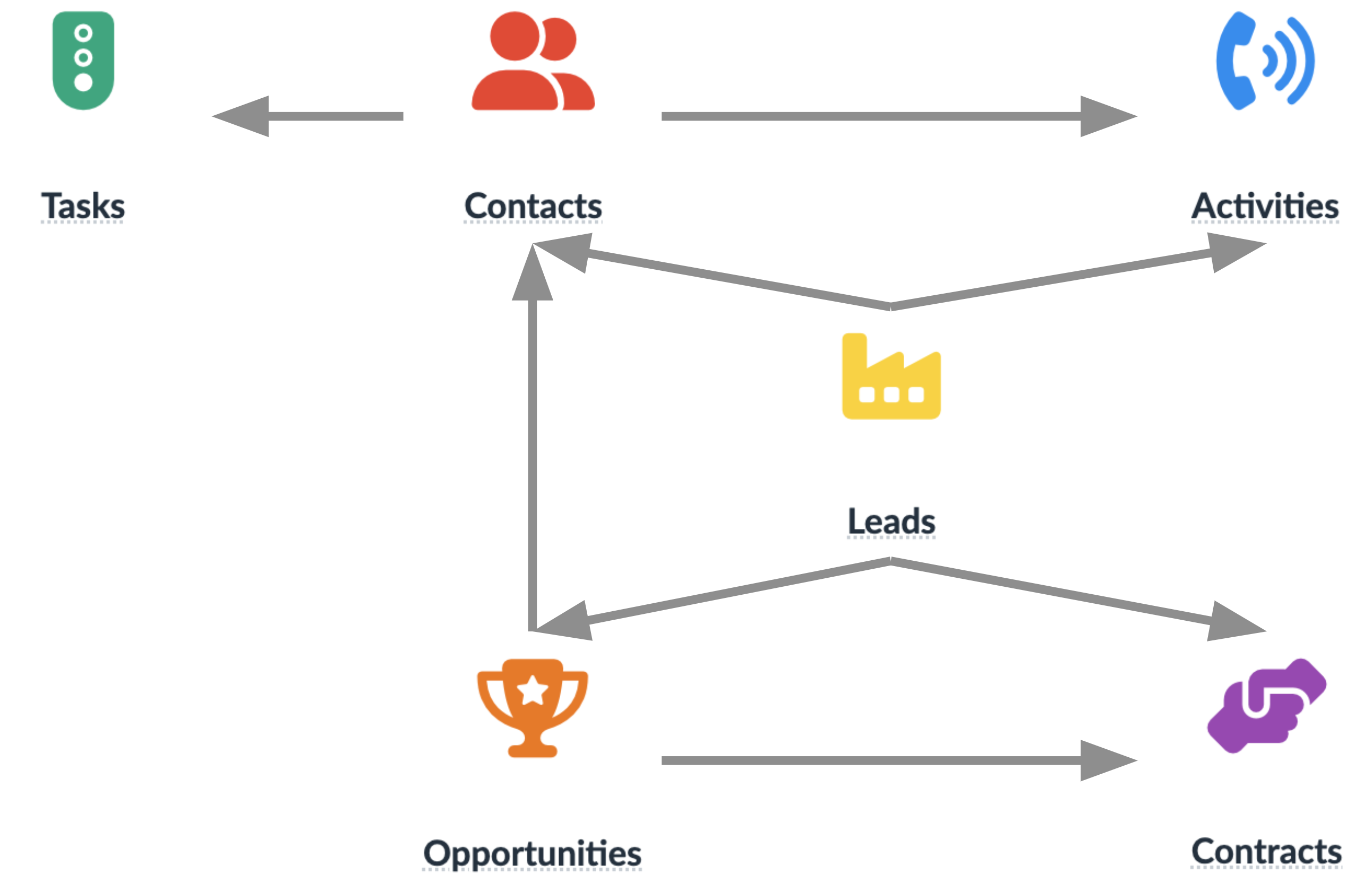 On top of the tables, there are individual visual representations called views. You can give it all a try in the following live demo.
Try the Template
Try the template right here1).
1) Some of the functions are available only after a registration.
Smart Client Relationship Management Template Integrations
Due to Zapier integrations it is possible to connect your client tracking with the tools you already use, like Google Forms or Slack.
Upon a lead mention, the detail can be displayed in a Slack message. Or you can have an inquiry form on a website that automatically creates and assigns a prospect record in Lumeer.
Customizations
Remember that flexibility and customizations are the key benefits of Lumeer. We will accommodate everything according to your specific needs and workflows. Automations will then carry out all repetitive and mundane tasks for you.
Try the template out and get in touch with us.
Best suited for
Company size: freelancer, startup, small, medium, individual teams in large companies and enterprises
Team size: 2-50
Project complexity: sourcing leads, qualifying buyers, buyer journey, sales pipeline, opportunities and contracts tracking
Industry: any where clients need to be prospected and tracked
Simplify your work
with this template.