Customers 4.0: Who They Are? What They Want? Why Companies Should Reinvent for Them?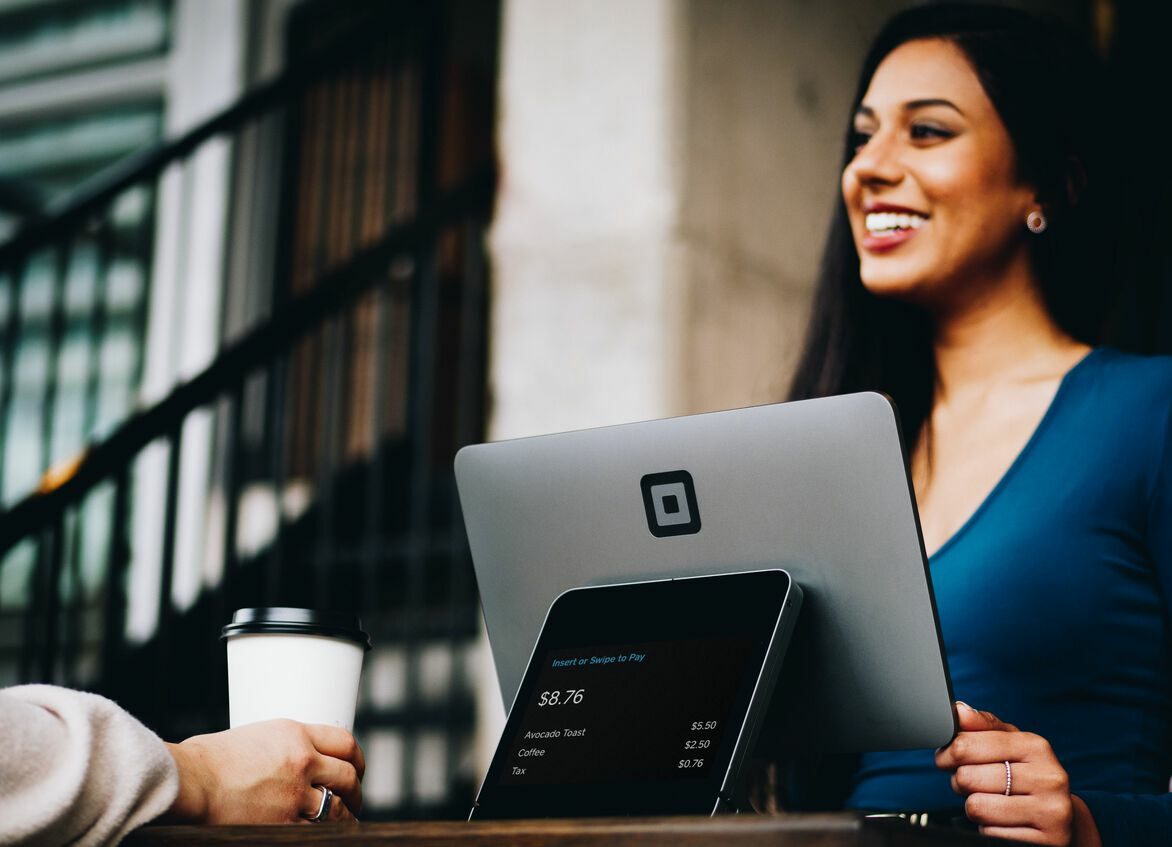 A man enters a shop and takes a look around.
– Hello, Sir, what can we do for you?
– Hello, I would like to buy the product X!
– … Sir, I'm afraid that the product X has not been invented yet…
– Oh, really?
This kind of customer is the new breed of the 4th Industrial Revolution (i.e. Industry 4.0). The customer 4.0 has risen from the battle between markets and is going to conquer the entire world.
We present you a Customer 4.0 Guide so that you can understand what's next and how to be prepared better.
A Brief History
In each stage of the customer evolution, marketing was carried out differently because of the distinct behaviors, habits, and demands of society. Also, public opinion had undergone many significant changes over time.
All this impacted not only the way of doing business but also the way of doing marketing. This generated a natural evolutionary cycle [RockContent].
Customer 1.0: In the first era of marketing, the consumer wasn't even aware of what a brand was. To them, it didn't matter what the product's added value was, but rather what that product could offer as a solution.
Customer 2.0: Consumer 2.0 is marked by a period of increased competition among companies. With broader markets and more competitors, the public started to have options.
Customer 3.0: With so many alternatives to choose from, consumer 3.0 began to feel the need to be included. They wanted a sense of belonging.
Customer 4.0 is the evolution of the 3.0 version. But there is a fundamental element that changes everything: technology.
Clients Are At the Heart of a Company
This has been one of the most famous slogans in capitalism. The value of a company is given by its clients. From start-ups to big corporations, every business is committed to understand and help their clients.
It took decades to analyze the expectations and the desires of the customers in order to support companies to deliver a good product.
A good product lies in the perception of the people and in the mind of business engineers, project and product managers. Every trend on the market was a joint response to the expectations and desires of individuals.
What people brought into their homes reflected their social and emotional needs. Whether we talk about clients of luxury brands or clients of small shops, having the right thing in the right time matters.
And speaking of brands, customers make a brand. For example, a famous actresses that advertise for luxurious perfume brands combine the taste for celebrity with the power of that particular company, a power achieved in years of pleasing the clients and building the future together with the clients.
We can say that some companies sell something and some companies build that something with their customers.
What Are Customers 4.0 Like?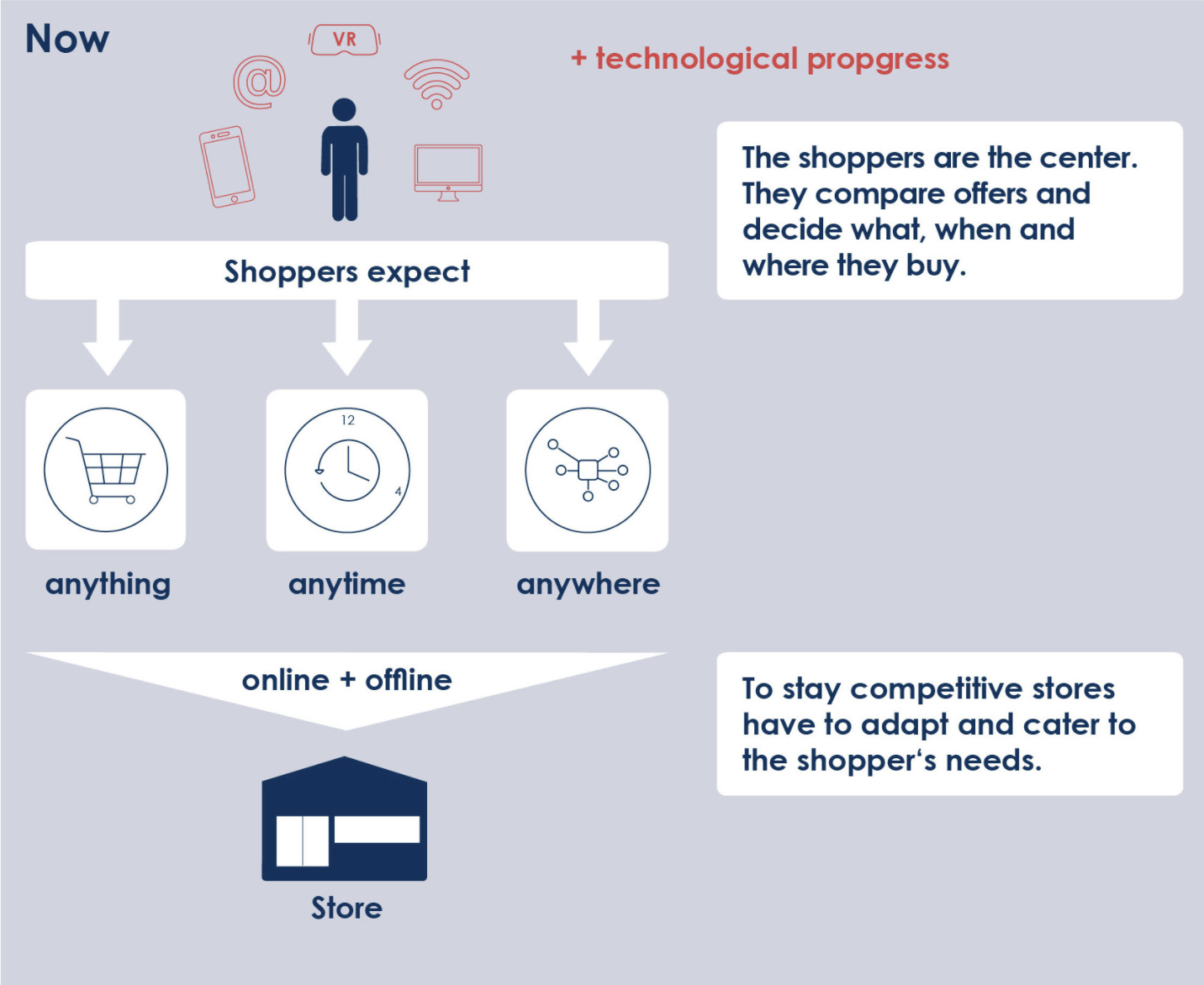 The customers from the 4th Industrial Revolution benefit from years of experimenting with products and services, from years of trial and error, from years of profit and losses, from the knowledge of the unique ones and from the wisdom of the similar ones. Customers 4.0 are:
Quickly evolving players
Diverse
Full of data and surprises
Innovative
Customers 4.0 are quickly evolving players. Back in the days, shops knew what their usual clients wanted and how they behaved. Later, corporations realized that, in order to make profit, they have to listen to their clients and design better products.
Today, customers change in weeks, if not in days. For example, a young person lives in a European city and has their own shopping habits. A new opportunity comes with an internship. The young person moves in 2 weeks to a new city and suddenly, their tastes change. It is 50% adaptation and 50% desire for new.
Customers 4.0 are diverse. Once upon a time, a company had 100 usual clients from one region of the country. Due to globalization, a company has 100 usual clients of various cultural and geographical backgrounds. A product is what we need in general, no matter the skin color. There are our thoughts, emotions and cultural backgrounds that contribute to a wide range of complex and exotic products.
Customers 4.0 are full of data and surprises. You don't have to know too much about your client, just those elements that will help you to sell more. Reconfiguration: you don't have to know too much about your clients, but if they provide you a lot of data, why not use it?
The rise of social media has led to the so-called explosion of data. Each day, individuals upload millions of photos, videos, information and so on to the internet. This could be a goldmine for companies.
Customers 4.0 are innovative. In the old days, a shop owner used to persuade his customers to buy the products. Today, clients are innovative, because they interact in a complex environment. They benefit from the open knowledge given by the internet. They take much more complex decisions than before and they have to adapt more quickly to various political, social and economical events. They have to be creative in order to survive.
What Customers 4.0 Want?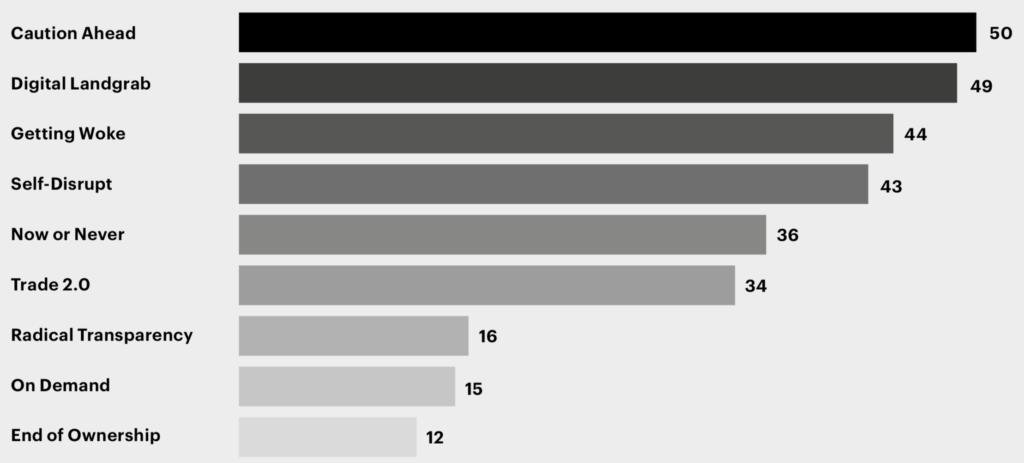 Science tells us important things about the psychology behind phenomena such as shopping habits, marketing, expectations, business philosophy or creativity.
Customers are also under the spotlight: sometimes it seems easy to guess what they want, sometimes it's hard to predict their moves. But, from a general point of view, we can say that they want:
To maximize freedom
To maximize gains
To maximize speed
Customers 4.0 want to maximize freedom. In an interconnected and digital world, freedom remains an important value: the freedom to shop what we want, to have in front of us the opportunity to select, freedom to negotiate, to switch products, to invest, freedom to maintain our habits.
Clients don't come to places where freedom is at a minimum level. For instance, a website that sells vintage objects and doesn't show too much details or worse, it confuses the customers and doesn't have a contact or feedback page which means no freedom for clients to shop at their own pace.
Customers 4.0 want to maximize gains. Clients always searched for a good quality of products and services but nowadays things are at a higher level: the 4th Industrial Revolution has changed the game of gains.
Quality increased and expectations increased even higher. The fair price for a product or service is in the perception of a client and on the table of entrepreneurs.
Sometimes, the perception that you gained a greater value is more important than the actual gain. And companies need to offer this to the new breed of clients, more often and more vividly.
There is even a new phenomenon called the Amazon effect which puts traditional brick-and-mortar shops in a worse competitive position.
Customers 4.0 want to maximize the speed. Back in the days, customers could wait for a product to come in a week or even more. In 2020, the speed is crucial.
For example, companies specialized in delivering food to the homes of the clients know that the speed of delivery influences the outcomes of the whole service. Come in time and get the money.
Speed is also crucial in fashion companies. Things from the runway get into shops within the next 24 hours. The cycle is shorter and customers don't want to wait too much.
Freedom, value gains and speed – this is exactly what Lumeer offers to the clients.
Why Are Companies Reinventing for Customers 4.0?
With such customers, companies in the 4th Industrial Revolution had to reinvent for the complex needs of the individuals.
Profit is generated by customers and to maintain a good profit, companies, no matter their profile, must combine new elements, be more efficient, appeal to the people and sell in a smart way. For doing this, businesses adapted:
From Product to Service to Software
While the traditional products and services remained an important base of the economy, companies began to offer a wide range of softwares.
In order to function in the realm of internet networks, companies had to provide more digital tools for the so-called digital-native customers. Although the classical needs of the individuals are the same, some emotional and cognitive needs have changed.
Clients want to have more smart solutions and companies must be able to respond to this wave by integrating software into the environment.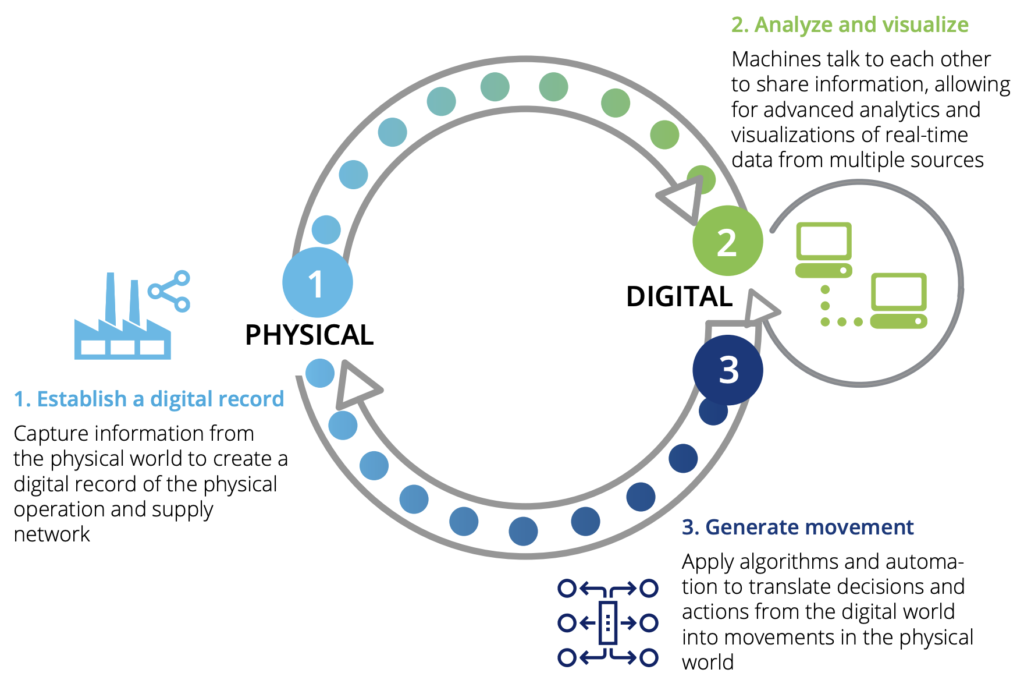 From Custom Made to AI Made
While pretty much all of the companies customized their products and ways to interact with the people, the trend is switching to, customizations made with the help of artificial intelligence (AI) like in supply chain management for example.
And to do this, companies are using, besides AI, the data of clients and possible clients. It is, at the end of the day, an exchange – customers 4.0 give their data and receive new tools.
Moreover, their data can be instantly used to create Dynamic Customer Profile and trigger real-time engagement. Which further increases chances for sales.
From Human Values to Digital Values
While the human values have shaped societies, the digital values like accessibility, freedom of choice, friendly environment or the right to privacy began to shape the online world.
Diversity is thriving but clients have to make a balance between the real world and the digital worlds.
Companies faced similar challenges, maintain both human and digital values so that their employees and customers can interact in a smooth manner.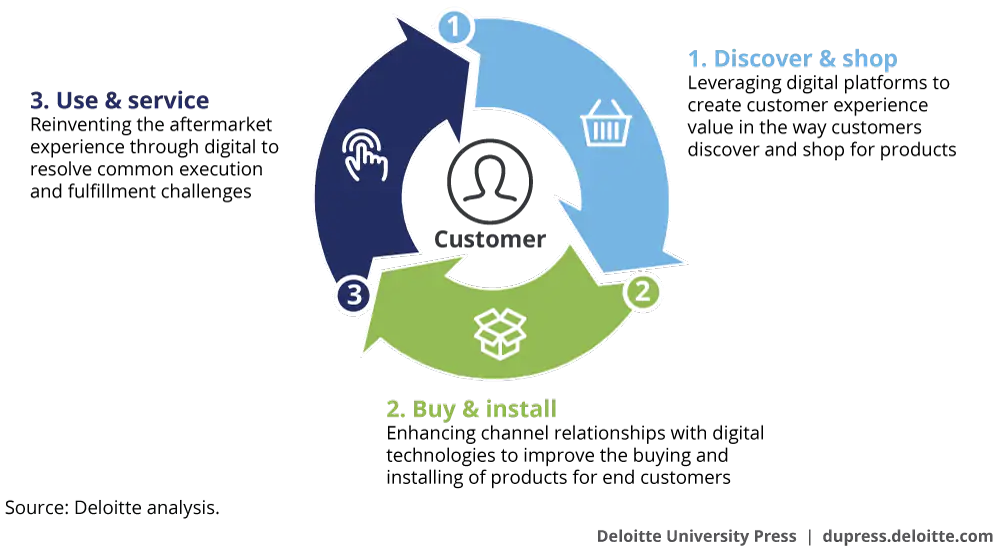 E-Commerce Trends Leading the Way
What are the leading trends in e-commerce and where to focus? Following is a list you could use as an inspiration for you brain storming. Figure out innovative ways to reinvent your business.
Augmented Reality (AR) enhances the shopping experience. Customers can now visualize furniture, paintings or any other physical product at their homes prior to buying. Just by using their phone. Gartner predicted 100 million consumers shopping via AR in 2020.
Growing volume of voice commands. People are now more and more relying on their virtual assistants to schedule appointments, make phone calls, write notes or action items, control their smart homes…
AI to learn about customers. AI can help businesses to learn more about customers and supply them with the highly customized experience they demand. Virtual assistant is available 24/7 and can provide real-time insights.
Big data plays a key role in highly customized experience.
"As the tech giants continue to expand and bring more services in-house, personalization will eventually make its way to the internet of things. In addition to seeing suggestions on search engines or shopping platforms, we'll also see them on our thermostats and our doorbell cameras." – Luis Catter, Conversion Rate Optimization Expert, Kensium Solutions.
Chatbots to improve the experience. There is a growing trend in the usage of smart chatbots to provide meaningful customer support, shopping assistance etc.
Mobile shopping on the go. Statista estimated that by the end of 2021, 73% of e-commerce sales will happen through a mobile platform. Are you ready?
Many more ways to pay. Customers are expecting their favorite way to pay for goods and services to be available, full-stop. You either accept their preferred way, or they go shop elsewhere.
Headless and API driven e-commerce. Make sure to support common APIs to be able to integrate with large platforms, other tools, and partners. This can leverage you potential.
Video content. Customers are known to respond to videos demonstrating the added value, sharing experience etc. Nobody reads through bunch of paragraphs describing the product in great detail. Just show it, fast. The conversion rate can increase dramatically.
Subscriptions keep the customers coming back. Offer a regular value. Make sure to interact with the customers frequently, make sure they return for more. Give them content they can further spread among friends and become your ambassadors.
Sustainability is crucial. Many customers are curious about what it takes for you to deliver the product. Didn't you harm the planet's ecosystem? Isn't the buying decision depleting the Earth's limited resources?
Optimize digital strategy for conversion. In the competitive market, no matter what you sell, you need to be better and faster than your competition. Make sure that once a customer visits your website, you can convert them.
B2B is being reshaped. According to Forrester, by 2020 almost half of all adults will be Millennials (potential B2B buyers). Gen Z is also starting to enter the workforce. These groups prefer a simpler, more self-serve user experience. They want to research and get the information without talking to sales people.
Physical events with new digital dimensions. Physical events will rebound but with a new digital dimension [Forrester]. With buyers suffering from screen fatigue, B2B marketers eagerly anticipate the return of in-person events. But they will demand the newly gained advantages of digital events.
A Never Ending Guide in the World of Customers 4.0
Because we consider that fast evolution is at the heart of companies and clients today, we recognize that the Customers 4.0 Guide is a never ending guide: it will change and improve.
That is why here at Lumeer, we focus to be ready to deliver to our customers the tools they need.
We are also ready to learn new things in order to help you. If computers (AI) learn everyday, then we should do the same.