How to Access Your Data with the Search View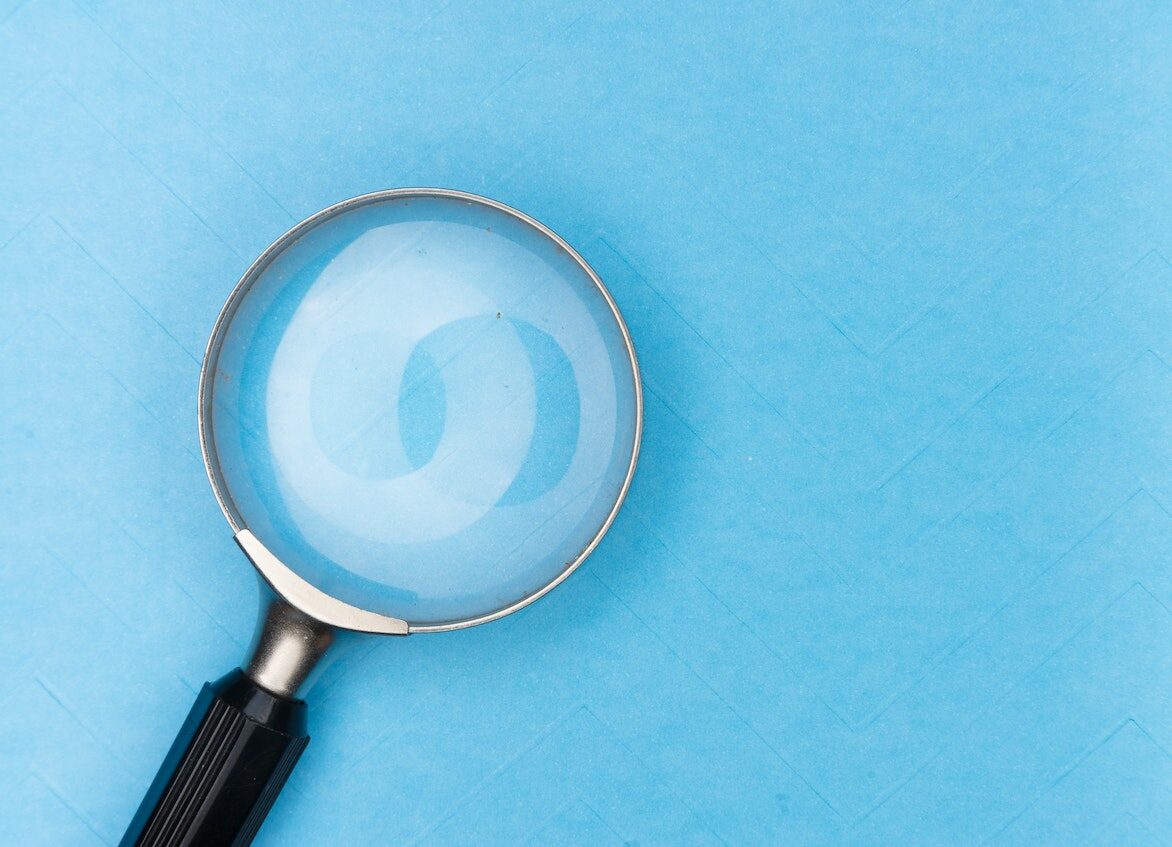 There are multiple ways how you can access your data in Lumeer.
You can choose among them depending on the situation – whether you want to open a particular set of records, find a piece of information etc.
Introducing the Search View
The Search view displays tasks, views and tables. Its usage is pretty intuitive. First and foremost, it servers as the Lumeer's home page. You can always safely get here by clicking the Lumeer icon in the top left corner.
As with any other visual perspective, you can search for your tasks, tables, and any other records is here. When you keep the search query empty, you can see all your active tasks, views, and tables available to you (to which you have access rights).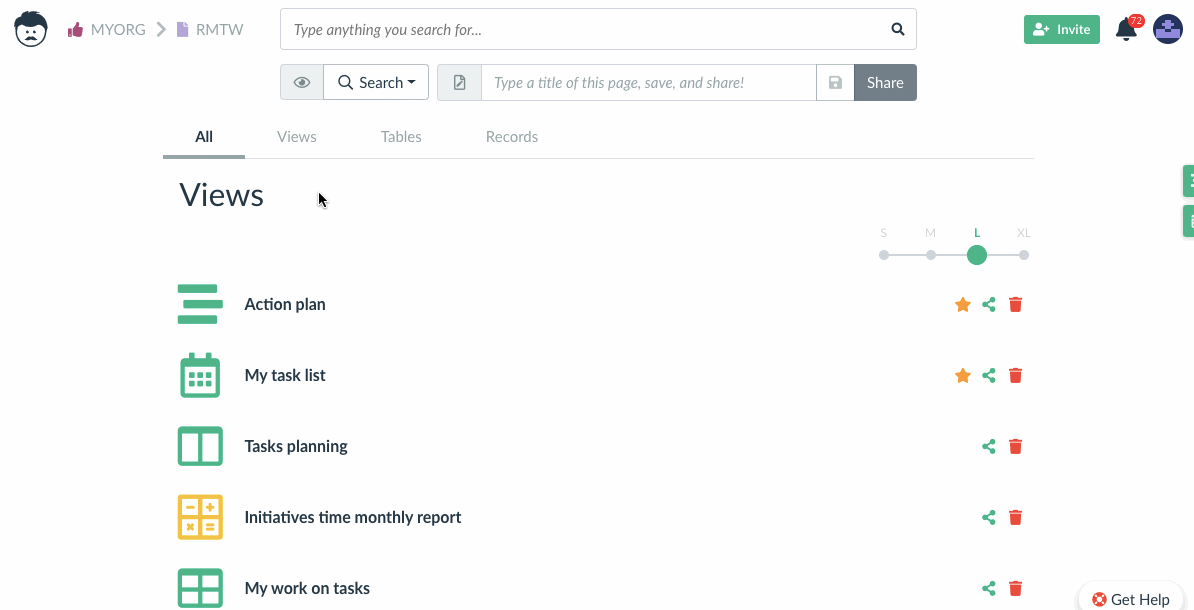 A search view can be named and saved as any other view. A practical use case is when you specify a query that filters tasks assigned to you team, for instance.
Another Search view usage is the ability to access settings of views and tables. From here, you can change all icons, colors, and names. You can organize your views into folders, configure user rights, and import new tables.
Let's dive a bit deeper in the structure of the Search View…
Home Screen
On the home screen, you can your active tasks sorted by their due date in descending order (closer due date means higher position).
You can pin a task at the top of the list by using the thumbtack icon. To edit the task details or see all the attributes, use the document with a magnifier glass icon.

These are then followed by views. If you click on a name of one of the views, you will open it.
We always recommend to access your data through a view. This can speed up your work significantly.
In addition to that, you can organize your views into folders based on their common theme (purpose, process, team…). A single view can be in as many folders as you like.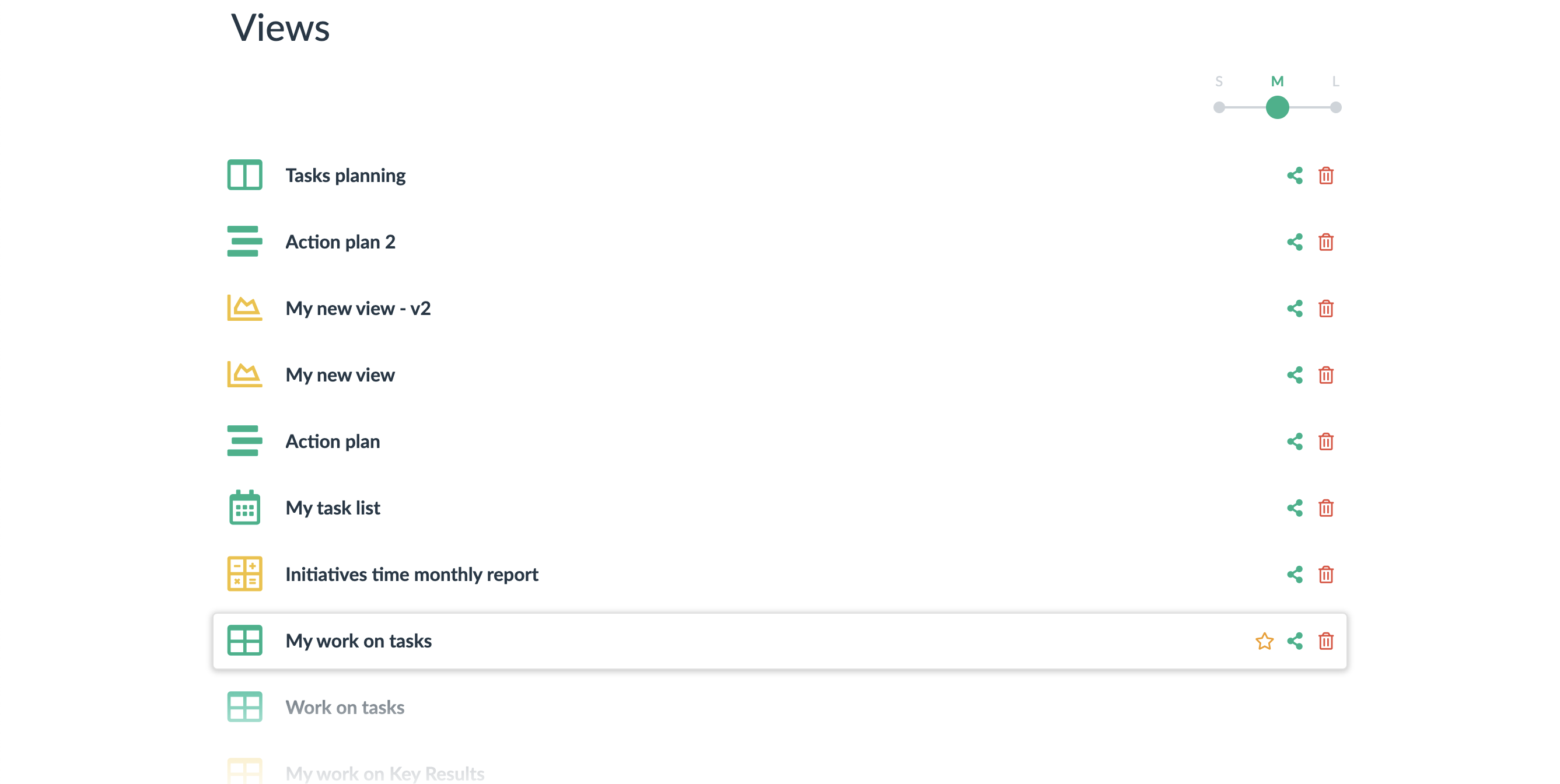 If you scroll down the screen, you will also see tables. The tables carry your raw data. Tables can be also linked together.

Or it may be quicker to access your data by clicking on the Tasks, Views, or Tables tab.
Search Bar
From the search bar, you can also access views, tables and records. Start typing and Lumeer will give you suggestions.
See Searching and filtering the data to find out more about Lumeer's search and filter capabilities. This will help you to open the right data really fast.

Bookmarks: Faster Access to Your Data
There is another shortcut – you can save frequently used views as bookmarks. This way, they will be only one click away from any screen.
To create such a bookmark, just mark any view as favorite using the star icon.
Custom Dashboards
Custom dashboards provide you a complete flexibility in how your home screen is arranged. Moreover, it allows you to directly display stored views in a tab. For more details read a separate article on Custom Dashbaords.